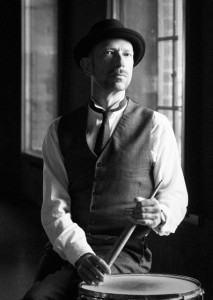 Tor Haugerud
Tor Haugerud, (b 1962), is a drummer, percussionist and composer, living in Trondheim, Norway. He started to play drums at the age of 7 in his birthplace Brattvåg, and got early used to perform on stage in his mother´s music theatre plays.
As a musician, he has developed his expression based on improvised music, influenced by the European contemporary and improvised music scene and american jazz music. He is always searching the nuanced and specific sound from his percussion setup in order to bring his spontaneous expressions into the music. In addition to the drums he occasionally use signal generator, drone commander, field recordings and other electronics. Tor also has a background as a an actor and performance artist in projects with mostly physical theatre, in groups like Cirka Teater, misterYtor and Teater Fot, in which he also is a composer. He has composed music for several plays, which include "Den femte årstid" – Cirka Teater (1990/91), "Det har ikke regnet på 3 måneder" – Teater Dakini (2004), "De røde skoene" (2008), "Mamma danser" (2011), "Du skal få høre fuglesang" (2012) and "Verken fugl eller fisk/Himmel og Hav" (2017-21) – Animalium (2019-) – Teater Fot.
He has toured throughout Europe, Africa, North-America and Asia with his bands and collaborators, which include musicians and artists like Ab Baars (NET), Axel Dörner (GER), Andrea Neumann (GER), Raed Yassin (LIB), Martin Küchen (SWE), Han Bennink (NET), Kim Myhr, Martin Taxt, Klaus Holm, Stian Westerhus, Eirik Hegdal, Michael Duch, Ståle Storløkken, Joakim Rainer Pettersen, Joshua Redman (US), Andy Sheppard (UK), Pat Metheny (US), Jim Denley (AUS), Jon Balke, Kjetil Møster, Siri Gjære, Kirsti Huke, Terje Rypdal, Sidsel Endresen, Jenny Hval, Sainkho Namchylak (MON), Sher Miandad Khan (PAK), Li Tie Qiao (CHI), Hans Magnus Ryan, Ingar Zach, Christian Wallumrød, Unni Løvlid, Oscar Grönberg, Petter and Ole Morten Vågan, Maria Norseth Garli,  Lars Ove Fossheim, Alpaca Ensemble, Mia Habib (NO, dancer/choreographer), Loan TP Hoang (NO, dancer/choreographer)
Tor is also associate professor at the University of Trondheim NTNU, Music Performance Studies.